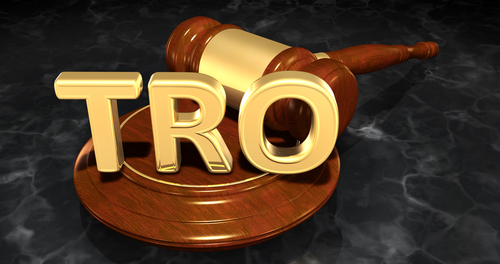 The Complexities of Obtaining a Restraining Order
By Valentina Quintero, Paralegal
Safety is something that everyone wants to feel in their everyday life. We invite people into our lives and inner circle, never imagining that one day this person will be someone that we feel unsafe with. In situations like a messy break-up, divorce, or just a falling out, it's hard to foresee how other individuals will react or how far they will go with their actions. In certain cases, filing a restraining order, also known as an injunction, is necessary for your protection and safety.
Many people misunderstand the complexity and the process of obtaining a restraining order against another individual. There are a few things to take into consideration when considering filing an injunction.
First and foremost, most people who want a restraining order are trying to avoid this other individual and keep them away at all costs. However, amid this process, the petitioner will have to face the respondent in front of a judge to prove the validity of this need for an injunction. This is something important to keep in mind and assess; would you feel comfortable seeing this person again in court? Do you have all the necessary evidence against this person for the petition to be granted? These are questions you need to ask yourself and then consult with an attorney to assist you in the next steps.
Florida has six different types of Injunctions: Domestic Violence Injunction, Repeat Violence Injunction, Dating Violence Injunction, Sexual Violence Injunction, Stalking Injunction, and Exploitation of a Vulnerable Adult Injunction. Each type of Injunction has different requirements and conditions.
The process of obtaining an Injunction goes through a couple phases. Contrary to popular belief, once an injunction is filed against someone it is not final. The first stage in court for an injunction is for a judge to review the petition and grant a Temporary Injunction which is effective until the final hearing. At this final hearing for a Petition for a Permanent Injunction, the petitioner must be present to face the respondent. This is something a lot of people fail to consider; you WILL have to face this individual in court. If the petitioner fails to be present, the temporary injunction is dismissed and a permanent injunction is not granted. At the final hearing, the petitioner must prove to a second judge through testimony, evidence, and witnesses that the respondent is a continued threat to his or her safety. The respondent will also be given the opportunity to defend themselves and present their own evidence against the injunction.
If a permanent injunction is granted, the Judge will outline in the injunction order to the respondent the restrictions imposed on them. For example, the injunction can restrict the respondent from getting near you, contacting you, entering your home, or workplace, etc. An experienced attorney can assist you in making sure you properly and effectively file an injunction with all the necessary modifications to allow you to live in peace and feel safe in their everyday life.