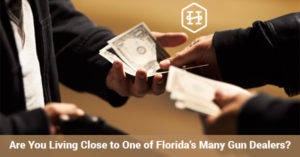 According to recent Huffington Post Research, gun dealers in Florida now outnumber post offices in the state by three times. These study results come from Mayors Against Gun Violence and indicate just how prevalent gun dealerships are as well as the demand for purchasing guns.
Breaking this down into terms as that can translate to residents across the state of Florida, more than 99% of people who reside in the state live within a 10-mile span of at least one authorized firearms dealer.
This means there's a pretty good chance that anyone reading this blog lives very close to someone who sells firearms for a living. One of the biggest challenges of living in an area with high gun ownership is that according to Harvard University's Injury Control Research Center, in locations where more guns exist, higher homicide rates also follow.
Between 2007 and 2010, a total of over 9,000 Florida residents sustained fatal injuries associated with a firearm.
Gun Crimes in Florida
There are numerous acts that have been criminalized in the state of Florida as the result of purchase, use or possession of weapons or firearms. If you have been recently charged you need to consult with an experienced Florida criminal defense attorney.
The most common charges facing individuals in terms of weapons in Florida include:

Improperly exhibiting a dangerous firearm
Firearm possession by convicted felon
Possession of or discharge of a destructive device
Carrying a concealed firearm
Carrying a concealed weapon
Many repercussions can be associated with being convicted of any of these crimes which is why it is essential to reach out to a criminal defense attorney as soon as possible.
Weapons Enhancements and Weapons Offenses
Weapons enhancements are associated with penalties where a weapon or a firearm has been used in the commission of another crime like robbery, aggravated assault or battery.
A weapons offense, however, only relates to situations involving the improper use, possession or purchase of a firearm or weapon.
If a firearm is discharged or if an individual is shot or killed with a firearm while another violent crime is being committed, this may trigger the 10-20 life rule in Florida. These sentences are as follows:
Carrying a firearm can lead to a mandatory minimum prison sentence of 10 years.
Discharging a firearm can lead to a mandatory minimum prison sentence of 20 years.
If someone is killed or shot as a result of a firearm being carried while another crime is being committed, the mandatory minimum prison sentence is 25 years but this could extend all the way to life in prison.
Convicted Felons and Gun Ownership
Convicted felons are prohibited from owning a gun. Unless your civil rights are restored with the help of an attorney or unless your felony conviction is expunged from your record, you are not legally allowed to purchase or own a firearm. This also applies to any kind of ammunition.
Charged with a Gun Crime? Contact to An Expert Miami Criminal Defense Lawyer Today
In the event that you are facing any kind of weapons offense in Florida, you need to reach out to an experienced criminal defense attorney as soon as possible. This is the best way to protect your rights and to develop a comprehensive defense.
Related Post: