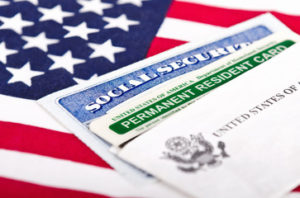 At The Hansen Law Firm, we represent individuals, families, employers, and employees guiding them through the immigration process each step of the way from the initial consultation to file preparation and case resolution. Whether you are seeking citizenship, an employment visa, or a green card, or need assistance defending against deportation, our attorneys are dedicated to providing personalized and aggressive representation on behalf of our clients.
Below is a brief overview of the types of immigration cases that The Hansen Law Firm can assist you with:
Citizenship
People who are born in the United States are automatically granted citizenship, along with the wide range of rights and benefits that come along with it. For others, citizenship can be obtained in a number of ways.
A person born elsewhere but whose parent or parents are U.S. citizens, for example, is generally entitled to citizenship, so long as the appropriate paperwork is filed. Meanwhile, a non-citizen can gain permanent resident (green card) status by marrying a U.S. citizen, but does not automatically become a citizen through this process. Instead, these individuals can seek citizenship through naturalization, which is also available to other persons who want to become U.S. citizens.
Naturalization
Naturalization is the process by which the U.S. government grants citizenship to a foreign citizen or national. To become a naturalized citizen, a person must apply for naturalization and meet numerous requirements:
Employment /Investor/Student Visas
There are countless reasons why individuals and their families come to the United States, and many more reasons for trying to stay once they get here. Business and employment opportunities are often at the center of the decision. In order to work in the U.S., a non-citizen must apply for and obtain an employment visa.
There are many different types of employment visas available, depending on an individual's particular circumstances. These include, but are not limited to: E Nonimmigrant Visa for Traders and Investors; F1 Student Nurses; H-1B Nonimmigrant Visa for Professional Workers; H-1C; J-1 Physician's Visa Waiver; L-1 Non immigrant Visa for Intercompany Transferees; Nonimmigrant Visa for Individuals of Extraordinary Ability or Achievement; Permanent Labor Certification
Immigration Defense
A non-citizen arrested for various crimes, including immigration offenses, in the United States may be subject to deportation ("removal") as a result. Following deportation, the person is generally banned from returning to the country, even to visit. Deportation proceedings are handled by U.S. Customs and Immigration Enforcement (ICE).
If you or a loved one are being threatened with deportation, it is important that you or your family contact an experienced, knowledgeable immigration defense attorney immediately. The lawyer can provide invaluable assistance in a number of ways.
Family Based Petitions
The basic process for filing a family-based petition is the same, regardless of whether the sponsor is an LPR or U.S. citizen and regardless of which type of relative is benefiting from the petition. The sponsor files an I-130 Petition with USCIS. The Petition must contain proof of the family relationship between the sponsor and the beneficiary. This could be a birth certificate if the sponsor is a parent, or a marriage certificate if the sponsor is a spouse.
Importantly, the petition must also contain proof that the beneficiary will not be a "public charge" in the United States. This means that the beneficiary will not be required to make use of public welfare programs to survive. To prove that the beneficiary will not become a public charge, the sponsor must include proof of the sponsor's gainful employment or income, although the beneficiary's employment and income can also be taken into consideration.
Green Card
The green card application is filed with U.S. Citizenship and Immigration Services (USCIS) on Form I-485. The foreign national is eligible to file the I-485 application when the national's priority date is current.
The priority date is the date assigned to the national that marks his or her "place in line" for a green card. There is a waiting line for green cards because the U.S. Congress has set a limit on how many will be given out per year to foreign nationals from different countries. Since the demand for green cards far exceeds the supply in a given year, foreign nationals are now assigned priority dates that tell them when they can apply for a green card. If the national's priority date is current, the national can submit the I-485 Application. The U.S. Department of State (DOS) publishes a Visa Bulletin every month to inform foreign nationals what priority dates are current.

U Visas
In order to be eligible for the U visa, the foreign national must be a victim of a "qualified criminal activity" that either occurred in the U.S. or was a violation of our nation's laws. For example, a person who is sexually assaulted here could qualify as a victim. Importantly, "victim" does not restrict eligibility to the person directly affected by the crime but also extends to indirect victims and bystanders, such as the relatives of a murdered person.
The nature of the crime perpetrated against the foreign national must be particularly serious and often violent in nature in order to meet the "qualified criminal activity" requirement. Some examples of conduct that satisfies this standard include domestic violence, kidnapping, murder, manslaughter, prostitution, felonious assault, rape, sexual assault, abduction, and extortion. Also, the crime must have caused the applicant to suffer substantial physical or mental abuse, such as serious injury or psychological harm.
In addition to the above requirements, to qualify for the U visa the foreign national must also be able to prove that he or she helped the police investigate or prosecute the crime.