Representing Clients in Dade County, Broward County & Palm Beach County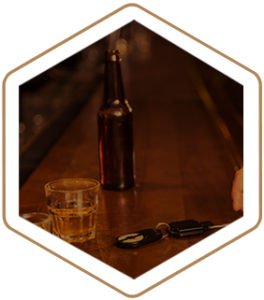 Disorderly intoxication forbids individuals from being drunk or consuming alcohol in a public place and causing a public disturbance. This definition is deliberately broad so that officers can remove intoxicated individuals from public places who may cause harm to themselves or to others.
The Hansen Law Firm can assist those charged with this offense and provide their best defense available based on their situation.
Disorderly intoxication is a charge that can stick with you for the rest of your life, so defending vigorously against it is important. An experienced disorderly intoxication attorney can be a valuable asset.
Proving Disorderly Intoxication
Disorderly intoxication requires additional steps for proof compared to the charge for disorderly conduct. For a disorderly conduct charge, the arresting officer simply has to believe that you are breaching the peace.
In a disorderly intoxication charge, the State of Florida also has to prove that you were intoxicated at the time of the incident. This extra requirement occasionally turns disorderly intoxication charges into disorderly conduct charges at trial or in suggested plea bargains.
Of course, this requirement does not apply if you were clearly drinking alcohol in a public location at the time of your arrest. Regardless of whether the charge is based on consuming alcohol or being intoxicated, the arresting officer must also believe that you are acting in such a way that breaches the peace or causes a public disturbance.
Penalties for Disorderly Intoxication
Disorderly intoxication Florida is a second-degree misdemeanor. That means that you could face penalties that include:
60 days in jail
6 months of probation
A $500 fine
A judge could also impose more than one or all of the penalties as well.
It is also worth noting that arresting officers do have the option of dropping the intoxicated person off at their home or at a treatment facility if they would otherwise be charged with disorderly intoxication. Alternatively, the officer could also arrange for commercial transportation for the intoxicated person to send them home or a treatment facility. Usually, this means that the officer could call you a cab and instruct you to head home immediately.
Arresting officers are not required to show you this kindness, and you should not expect it. However, officers are still fulfilling their duties to the public under Florida law if this is the course of action that they choose to take.
What Does Intoxication Mean for a Disorderly Intoxication Charge?
Not being "that" drunk is often not a valid defense for intoxication-related charges. For disorderly intoxication, however, it might be. For a valid charge of disorderly intoxication, you must be so drunk that you have lost control of your normal faculties, either mental or physical. While this requirement can be somewhat subjective, it may be something that your disorderly intoxication attorney will raise as a defense.
Being "buzzed" or "tipsy" likely will not rise to the level that a disorderly intoxication charge requires. However, how drunk you are may not matter if you are consuming alcohol in a public location and disturbing the peace.
What is a Public Place for a Disorderly Intoxication Charge?
The statute that sets out the requirements for the disorderly intoxication charge states that you cannot consume alcohol in a public place. But, what is a public place? Some people assume that a public place has to be outside, but that is not necessarily true. A public place under Florida law for purposes of this statute includes any location, outdoors or otherwise, where the public has a right to go.
This could include places like:
Parks
Malls
Churches
Airports
Museums
Government Property
If you are intoxicated in your own home or on your own property, a disorderly intoxication charge is likely not available to the arresting officer.
The Difference Between Public Intoxication and Disorderly Intoxication
In other states, being intoxicated in public alone is enough for a charge of public intoxication. In Florida, there is a separate requirement for being unruly or disorderly while intoxicated. That means that simply being drunk in public alone is not a crime under Florida law.
Increased Penalties for Habitual Offenders
If the accused has been convicted of disorderly intoxication three times in the prior year, then they are considered a habitual offender. Once you are considered a habitual offender, the court can commit you to a treatment center for up to 60 days.
We have following locations to serve you:
Dade County
Broward County
Palm Beach County
Getting Legal Help with Your Disorderly Intoxication Florida
The Hansen Law Firm has vast experience with disorderly intoxication charges. We can help you or your loved one fight this type of charge. Call (305) 666-1603 to schedule a confidential consultation or to get more information about your legal options after a disorderly intoxication charge in Florida.