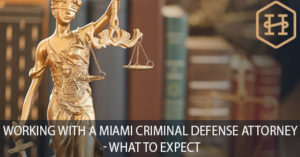 If you have recently been charged with a crime, it is possible that you are feeling frightened and overwhelmed. You are likely looking for the best legal resource to turn to.
When you are facing any kind of criminal conviction, it is easy to find yourself in this position of feeling overwhelmed and not being sure about your next steps.
You may be worried about your reputation, your freedom, your relationships and your finances. This is why it is essential to identify a Miami criminal defense lawyer as soon as possible.
As soon as you see red and blue flashing lights in your rearview mirror or the moment that a police officer shares that you are under arrest, it feels as though your entire life is hanging in the balance.
This is why you need an experienced Miami criminal defense attorney as soon as possible. A good criminal defense attorney will work as hard as possible to protect your future and all of the things you have built in your past, including your career, your reputation and your family. Even being accused of committing a crime can have serious consequences for your reputation.
What to Look for in an Attorney's Approach to Criminal Defense
Regardless of the facts of the case, the evidence, the circumstances, or the charges, each criminal case deserves comprehensive investigation and representation.
Some cases require a more aggressive set of tactics than others. Some cases might involve a different suggested solution shared by your attorney, including pleading guilty, a plea bargain or pleading no contest.
Some of the most common crimes that require a gloves-off criminal defense response include:
Auto theft
Federal crimes
Domestic crimes
Violent crimes
Drug charges
Felonies and misdemeanors
Reckless driving and DUIs
Probation violations
Also Read: Five Things You Should Know About Hiring a Criminal Lawyer in Florida
Contact An Expert Miami Criminal Defense Lawyer Today
An experienced Miami criminal defense attorney should challenge all evidence and question every aspect of the charges and allegations against you. Whatever the challenges may be in your case, an experienced Miami criminal defense attorney should be prepared to tackle them head on.
There is too much at stake for your future to accept anything less. When you need an aggressive criminal defense attorney in Miami for any kind of criminal charge, make sure you set up a consultation to speak with the attorney first.