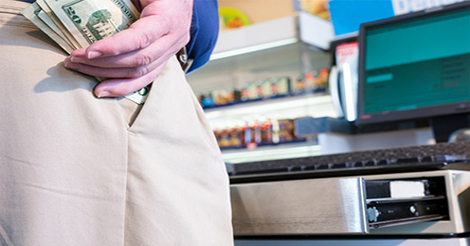 Employee theft occurs when an employee unlawfully takes from their employer. Usually it will involve money, but it can involve property as well. The taking is with the intent to permanently deprive the employer of the funds or property. This particular crime is taken very seriously in Florida and it can result in severe penalties.
A Florida theft lawyer can help you defend against allegations of employee theft so you can avoid the potentially harsh penalties involved.
The Basics of Employee Theft
Employee theft is either classified as petit theft or grand theft under Florida laws. This classification will depend on the value of the property or funds stolen. That means that there is technically no specific statute that addresses employee theft individually.
Interestingly, however, the penalties that are used in employee theft are often more serious than other types of theft. This occurrence generally shows the State of Florida's distaste for those who steal from their employers.
In Florida, someone who steals from their employer and someone who shoplifts the same amount of money or property may still have different penalties.
Theft at a Public Lodging or Public Food Service Establishment
There is a separate theft crime for stealing from a hotel or restaurant that is specifically aimed at employees. This law discourages employees from stealing from guests and patrons.
This harsh law does not take the value of the property into account like other theft crimes. Instead, theft of this kind is considered a felony no matter what was taken.
Defenses for Employee Theft
Many of the same defenses available under other theft situations are also applicable to employee theft cases.
These can include:
Lack of intent to steal
Consent from the employer for the taking
Incorrect value of the property (which would decrease the penalties involved)
Taking for a lawful purpose
Acting out of necessity or duress (such as when another person forces you to hand over money or property)
Of course, your Florida theft lawyer will also challenge the State of Florida's sufficiency of evidence whenever possible. The State of Florida must prove beyond a reasonable doubt that you committed this crime, and a good defense lawyer will make them work hard for that result.
Employee theft cases can be difficult to prove. Occasionally employers will suspect that a taking has occurred, but has no evidence of the taking. Sometimes what is a simple mistake at a cash register can make the employer think an employee theft has occurred.
However, the simple fact that the closing numbers do not match as they should, is often not enough evidence for a theft conviction in Florida.
Employee Theft and Embezzlement
Employee theft and embezzlement are often lumped together in Florida, but there is a difference between the two. In embezzlement, the employee is permitted to handle the funds or property that has been stolen.
That is, the employee was permitted to handle or transport these funds or property, but they ended up taking them for their own use instead of handling them as instructed by their employer.
The employer trusted this employee, but there was a violation of that trust in an embezzlement situation. Embezzlement can occur between more than just employers and employees.
Embezzlement is also a broad term that includes a wide-range of charges, including:
Errors in accounting
Adding names to accounts
Money laundering
Counterfeiting
Talk to an Experienced Florida Theft Lawyer
Whether you have been charged with employee theft or embezzlement, the harsh penalties potentially involved make it even more important than ever to have a Florida theft lawyer.
An experienced attorney will likely mean the difference between jail time and simple fines. Don't risk it—call today.