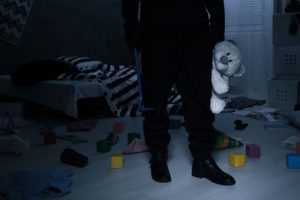 It's 2:00 AM, you are sleeping soundly in your bed as your wife lies peacefully next to you. Your two kids are fast asleep in their rooms. The house is quiet, still and dark. Things are as they should be this early in the morning. Somehow, you are awakened and upon opening your eyes you see a shadow of a large, hooded figure rifling through your wife's jewelry box on her vanity. Your heart skips a beat as it begins to pound faster than you knew possible. Your breathing seems to overtake the stillness of the night and you fear that the intruder in your home will see you are awake. Your gun is within arms reach of your bed but you fear movement may incite retaliation. Before you can make your decision, the tall figure, who has now packed all of your wife's jewelry in a small pillow case, is making his way out of your room and heading into the direction of your kids bedrooms. At this point, your instincts take over, blood rushes to your head and the next thing you know you are in your hallway standing above a dead man who you just shot. Will you be arrested for murder or did you legally defend your castle?
In Florida the "castle doctrine" stands for the proposition that a person's dwelling house is a castle of defense for himself and his family, and an assault on it with intent to injure him or any lawful inmate of it may justify the use of force as protection, and even deadly force if there exists reasonable and factual grounds to believe that unless so used, a felony would be committed. Given my factual scenario, the intruder is not attacking you or anyone therein, in any manner. Rather, he is walking away from you towards your sleeping children. The question then becomes whether or not you have "reasonable and factual grounds" to believe that a felony would be committed if deathly force is not used.
Florida Statute §776.013 answers this question. It provides, in part, that a person who unlawfully and forcibly enters a residence, such as the intruder above, is presumed to be doing so with the intent to commit an unlawful act involving force or violence. As such, Florida law further presumes that the person within the dwelling or residence holds a reasonable fear of imminent peril of death to himself or herself or another that justifies the use of lethal force.
In so many words, Florida does not believe that a person who forcibly enters your home without your permission is coming in to share a coffee with you and discuss philosophy. Florida presumes that the person is coming there to hurt you giving you the right to defend your castle with lethal force. There are exceptions to this rule such as a law enforcement officer executing a warrant; a resident child's guardian coming for the child; the defending person engaging in unlawful activity; or the intruder is not really an intruder and has a right to be in the home.
Given that the intruder in our case does not fall within any of the exceptions, it is my legal opinion, that the shooting was justifiable. The intruder unlawfully and forcibly entered your home giving you reasonable and factual grounds to believe that his intent, while in your home and heading to your kids bedroom, was to commit an act of violence upon you and your family.